ISBN: 9781489210746
ISBN 10: 1489210741
Imprint: Mira
Published 2016
Pages: 416
Synopsis (publisher)
From a bestselling Australian author comes a compelling narrative set in the 1930s and modern-day South Australia.

How much of who we are is destiny and how much chance?

In 1934, the three Miss Allens – Ruby, Adeline and Clara – arrive in the seaside town of Remarkable Bay for their annual summer holiday. It's the last time they'll spend summers as a family. Adeline is engaged, Ruby is weighing up an offer, and Clara is just eighteen and about to start her life. But by summer's end, the lives they have known will change irrevocably and a mysterious secret will tear the family apart.

Eighty–two years later, Ruby's great–granddaughter Roma Harris moves to the now sleepy Remarkable Bay, retreating from tragedy. Roma's distant cousin Addy arrives too, fleeing a life with too much drama. It's only when the women discover an old guest book that they start asking questions about the mysterious third Miss Allen. Who was she? Why has she disappeared from the family's history?
If they solve this mystery from their past, could it change the women's futures?
My Take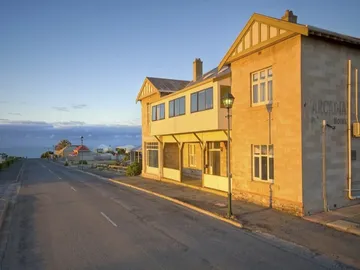 A gentler read than my usual fare, a mystery rather than crime fiction.
I thoroughly enjoyed this title not just because it was set in my home town (thinly disguised) but also because of how well the characters were drawn, and the social changes of the last 80 years were described. For location confirmation see this interview with the author.

Highly recommended.

My rating: 4.6