Originally published in 1939
ISBN 978-0-06-208152-0
307 pages
Synopsis (Harper Collins)
A couple of publisher's blurbs for you to consider

Ten people, each with something to hide and something to fear, are invited to an isolated mansion on Indian Island by a host who, surprisingly, fails to appear. On the island they are cut off from everything but each other and the inescapable shadows of their own past lives. One by one, the guests share the darkest secrets of their wicked pasts. And one by one, they die…

Which among them is the killer and will any of them survive?

~~~~~~~~~~~~~~~~~~~~~~~~~~~~~~~~~~~~~~~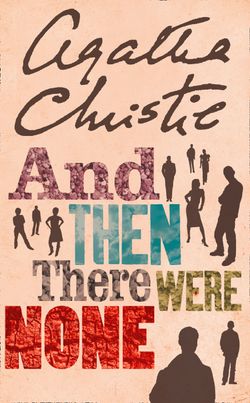 Ten strangers, apparently with little in common, are lured to an island mansion off the coast of Devon by the mysterious U.N.Owen. Over dinner, a record begins to play, and the voice of an unseen host accuses each person of hiding a guilty secret. That evening, former reckless driver Tony Marston is found murdered by a deadly dose of cyanide.
The tension escalates as the survivors realise the killer is not only among them but is preparing to strike again… and again…
My Take
I've lost count of the number of times I have read this novel by the Queen of Crime. The fact that I can re-read it again and again should explain to you why I have given it the highest rating.
This time I am re-reading it with purpose, for a discussion with my local U3A Agatha Christie reading group. Last year we tackled some Poirots and some Marples. This year we are tackling some "stand-alones" and this is the first.
Last week I posed the question of whether
THE INVISIBLE HOST
was the novel that inspired this one. There is an author's note at the beginning of the novel, an extract from her autobiography, that makes it clear that this book involved "a tremendous amount of planning" and that she found it quite difficult to write. So no, I don't think it is plagiarism in action. I think Christie recognised a challenge - to write a novel where people die without it becoming ridiculous or the murderer being obvious.
I thoroughly enjoyed it, and as I read, I kept an eye on the "Ten little soldier boys" rhyme conveniently displayed at the beginning of the novel, so I could track how the rhyme worked in the novel.
Our group is also going to watch one of the film versions of the novel which should be interesting. (The video has Oliver Reed, Elke Sommer, Richard Attenborough, Herbert Lom, Gert Frobe, Charles Aznavour and the voice of Orson Welles and is 94 mins.)
And of course I originally read it when it didn't have a politically correct name. Amongst talking about the many names the novel has gone by, I want also to talk about the central idea that people can commit quite dreadful crimes, even murder without punished for them. That is what binds all the people on Soldier Island together.
See my original review on this blog over 10 years ago.

My rating: 5.0

see my list of Agatha Christie novels