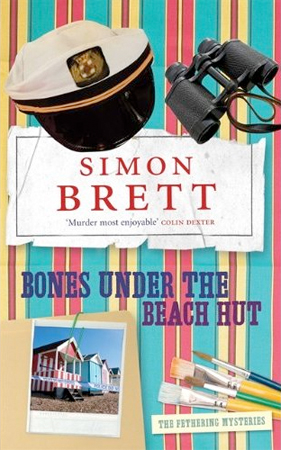 published by Macmillan 2013
ISBN 978-0-230-73638-2
316 pages
#12 in the Fethering Series
Synopsis (
Amazon
)
The affluent seaside resort of Smalting is unaccustomed to crime. So when human remains are found beneath the floorboards of one of its beach huts, the community is awash with suspicion and fear.
Amateur sleuths Carole Seddon and best friend Jude are drawn into the mystery, and their suspicion quickly falls on attractive Philly Rose, a young Londoner newly arrived in the area, whose boyfriend has recently vanished in mysterious circumstances.
Meanwhile, Kelvin Southwest, self-appointed 'ladies' man' and caretaker of Smalting's beach huts, seems to be hiding a dark secret beneath his smooth exterior, while Reginald Flowers, pompous President of the Smalting Beach Hut Association, becomes increasingly defensive about his own history.
When the bones under the beach hut are identified, the ghosts of the past are painfully reawakened, and long-hidden secrets begin to surface. Bones Under the Beach Hut is an ingenious mystery from one of England's favourite crime writers, exquisitely plotted, teeming with wonderful characters and packed with unexpected twists.
My take
I thoroughly enjoy these outings with Carole and Jude. They are light cozies with blood rarely in evidence, although the doughty pair of meddlers are often investigating a disappearance or even a murder. Simon Brett draws such vivid and recognisable characters. It is not really that the scenarios are particularly credible, but he manages to create mysteries and puzzles that keep you reading.
I have enjoyed the development of the characterisation of both Carole, stuffy ex-public servant, and Jude, bubbly outgoing massage purveyor, as the series has developed. The series began in 2000 with THE BODY ON THE BEACH, and this year will have its 15th outing with THE STRANGLING ON THE STAGE. The stories are mainly told from Carole's point of view, but next door neighbour Jude is an excellent foil to Carole's natural reserve.
Other reviews of Fethering titles
BLOOD AT THE BOOKIES
THE POISONING IN THE PUB
THE SHOOTING IN THE SHOP
My rating:
4.5
Fethering Series (Fantastic Fiction listing)
1.
The Body on the Beach
(2000)
2.
Death On the Downs
(2001)
3.
The Torso In The Town
(2002)
4.
Murder in the Museum
(2003)
5.
The Hanging in the Hotel
(2004)
6.
The Witness at the Wedding
(2005)
7.
The Stabbing in the Stables
(2006)
8.
Death Under the Dryer
(2006)
9.
Blood At the Bookies
(2008)
10.
The Poisoning in the Pub
(2009)
11.
The Shooting in the Shop
(2010)
12.
Bones Under the Beach Hut
(2011)
13.
Guns in the Gallery
(2012)
14.
Corpse on the Court
(2012)
15.
The Strangling on the Stage
(2013)